---
"It was a wonderful surprise for Susan and we were delighted with the service D K Carriage Horses provided. The horses looked superb and the carriage was immaculate. A beautiful turn out. It made the day special. Thank you 🥰" Anne
---
"A very professional, smart and friendly business to work with. Danny and Sarah provide a wonderful turn out every time we have used the Horses and carriages." Andrew Clark, Robert Holland Funeral Directors, Grantham
---
"My daughter got married on 20 July and D K Carriage Horses played such an important part on our special day.
The horses were immaculate and the professionalism of the personnel was excellent.
We would definitely recommend you" Andrew
---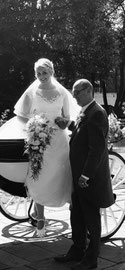 "Thank you for making our day perfect. You were everything we hoped for and so much more. I couldn't have wished for anything better, I would highly recommend you. Thank you 💖" Rosie
---
"We were so privileged to have the horse drawn carriage for Dads send off. The turnout was immaculate, the horses stunning and their professionalism was second to none. I cannot thank you enough for making a difficult day as special as we could. Highly recommend." Vicky
---
"Thank you so much for my carriage driving lesson this morning, I'm hooked. It was a fabulous experience can't wait to come back for another. Danny was a fantastic instructor very encouraging and explained everything from tacking up to taking the reins!!" Nicki
---
"Here at Belvoir Castle our guests are at the heart of what we do here. DK Carriages ALWAYS surpass all expectation with their carriage drives through Belvoir Castle Estate and beyond.  We are so very lucky to have this phenomenal team on our doorstep and recommend DK carriages for weddings or any special occasion.
Thank you to you all."
 Janie O'Shea
Business Development Manager Belvoir Castle
---
"We had the pleasure of enjoying a horse carriage ride on the 4th of September for our 19th Wedding Anniversary. Wow! it was amazing to be collected from the Chequers with a beautiful carriage and two horses Boris and Marcus. Stunning! Sarah and Danny drove the horses and were so welcoming and professional. My Romantic husband had asked Sarah to arrange flowers and prosecco and a lunch booking. We rode around Belvoir estate and castle it was beautiful and the noise of the horses was magical. I can't thank DK carriages enough we had such a great time we fully recommend this company i hope we get to use them again xxxxx"
Michelle
---
"D K Carriage Horses were amazing yesterday for me & my partners wedding day- Stunningly beautiful- I felt like a princess on my big day- Very polite lovely staff - Thank you so much for a unforgettable day/experience - Love Sally & Richard xxx"
Sally & Richard
---
"We used DK Carriages for our wedding - August 2017 and WOW is the minimum I can say, from the horses looking absolutely stunning alongside a beautiful carriage, the meeting every request even though they were a little outside the norm from a slightly control-freak bride without blinking an eyelid, the fantastic communication at every step of the process, the whole time from the moment they arrived to the moment they departed we and all of our guests were just blown away, we couldn't have been happier and we would have absolutely no hesitation in recommending Sarah & Danny & their amazing horses to anyone"
Sabrina & Carl
---
"What an absolutely perfect way to spend a Sunday morning. Danny and Sarah were so welcoming for my first carriage driving lesson. A friendly and relaxed approach soon put my nerves to rest and I had a fantastic time driving a pair of gelderlanders who were impeccably well mannered and so forgiving with their new novice at the reins! Thank you guys and I look forward to seeing you soon!"
Ella
---
"We used DK carriages on our wedding day. They were so helpful and accommodating. The horses and carriage all looked amazing, it was the perfect way to incorporate my love of horses into our wedding day. They made everything room so smoothly and were brilliant with communications. Highly recommend their service."
Samantha
---
"We were lucky enough to have Boris and Marcus for our big day. They were super stars, impeccably behaved and turned out. Sarah and Danny we can't thank you enough everything was perfect. I honestly felt like royalty riding in the carriage. Highly recommend you to absolutely everyone!!"
Tabs & Ed
---
"D K Carriage Horses are absolutely superb! 
We hired them for our wedding and we couldnt have asked for more! They were just brilliant, nothing was to much trouble. 
Really friendly, helpful and so professional :) 
The horses were beautiful and well turned out, they arrived way ahead of time and all contact made leading up to the wedding was impeccable. They made our perfect day extra special and we just cant thank them enough.
I would highly recommend this service to anyone.❤"
Rosey
---
"Well, what can I say? I can't praise Sarah and Danny at DK Carriage Horses enough.
I wanted something a bit different for my Dad's birthday and booked a Carriage Driving experience for him.
Communication with Sarah was always friendly and they were very accommodating, even when I had to change dates several times due to the busy life of my retired Dad and the weather, (for once it wasn't rain that cancelled the drive, it was the heat!)
Dad finally had his experience yesterday and he thoroughly enjoyed it. It lasted about an hour and Dad actually drove a pair of beautiful horses through the glorious grounds of Belvoir Castle accompanied by Mum and his sister and her partner.
When Dad rang me afterwards he was really on Cloud 9 he had a wonderful time and had been looked after well by Sarah and Danny, they even showed him around their collection of carriages at his request.
You won't go wrong if you choose to use the services of DK Carriage Horses."
Caroline
---
"To learn to drive horses correctly and safely, D K Carriage Horses are highly recommended. Both Danny and Sarah are very professional yet friendly, calm and welcoming. They make carriage driving look so easy (which it certainly is not!) and, very generously, allow pupils to drive the team horses. we began with the quiet, confidence building greys, and in later lessons were promoted to the black horses, working both in the school and on the quiet lanes, and learning how to fit harness correctly. Excellent"
Margaret
---
"What beautiful horses. You really contributed to making our day truly unforgettable.
 I can't thank you enough. The whole experience was fantastic.
 You come very highly recommended. Thank you x" 
Lisa & Jordan
---
"We wanted to send you a huge thank you for our beautiful carriage and horses,
 it was amazing to come out of the church and see you in all your glory waiting for us,
 horses looked amazing and what a fantastic ride they gave us to the reception venue!!
 Such well behaved horses even with the very loud drone buzzing above their heads, we would and will highly recommend you to people. Thanks again"
Charles and Kate
---
Your horses and the Landau created the high point of a wonderful celebratory weekend, which will not be forgotten. Every member of the family and all our friends had a ride, and everyone loved the experience. Thank you"
Sara Hope-Hawkins
---
"Thank you both so much for making it extra special!!!!
 Horses were gorge and a lovely relaxing ride to the church when I was very nervous xxxxx"
Ginny Jackson
---